LMT Magazine began releasing the results of their survey of the Dental Lab Industry last month.  There is a lot of really interesting information which matches well with comments made recently by Keith Crittenden, President and CEO of AmericaSmiles Network founder of the American Cosmetic Dental Lab Association.  In his seminar at LabDay Chicago he spoke passionately about the challenges facing the industry.  He described an industry in flux.  In the last 5 years dental restorations manufactured using some CAD/CAM technology has gone from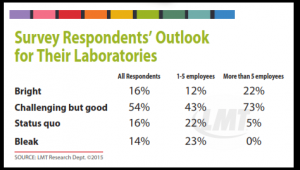 10% to nearly 70%.  Over the last 15 years brands such as Empress and Procera have given way to emax, Lava, and Bruxzir, and now even the Lava and Bruxzir brands have been replaced by the proliferation of generic Zirconia products. In addition, Keith spoke with great expectation about the future. We know that manufacturing has been driving the lab industry via the two-billion dollar consumables market.  Overall, the Lab Industry is a four-billion dollar industry that is in flux.  Seventy percent of lab owners believe the outlook for their laboratory is Bright or good.  What is concerning is that 45% of small and medium sized labs (1-5 employees) believe the outlook is Status Quo or Bleak.  Zero large labs see the outlook at bleak and only 5% see the outlook as status quo (or the same as it has been).  What is the difference? We believe the difference is that while we work in a 4-billion dollar industry, we are disconnected and unorganized.  Competing in this industry continues to be a challenge.  Manufacturer's want a share of this market. Big box labs will continue to strive for market share. Larger labs are buying smaller labs. Non-traditional labs entities like Sirona, 3Shape, Henry Schein, Dentsply and others are seeking to go direct to dentists. The FDA and individual states continue to look at regulation or certification, perhaps even requiring licensing. We believe dentists will always prefer 3rd party verification for fit and shade, and while the industry will continue to change as described above, we believe that more than 50% of all dental restorations will still be fabricated by local dental labs.  Keith Crittenden offered five key steps you should take to stay competitive and relevant over the next 5 years:
Join a Dental Lab network or association – AmericaSmiles offers labs the ability to partner together with other labs through both The AmericaSmiles Network and ACDLA.  Together these organizations provide a powerful one-two punch in training and advise plus cost savings, technology solutions, and marketing support.
Fully embrace digital technology and become a trusted advisor/consultant to your dentists concerning CAD/CAM and other digital technology.
Secure the ability to offer your dentists digital solutions such as IntraOral Scanners for their practice. The company that supplies this solution to their doctors will secure their on-going business.
Secure the ability to design from digital files. ExoCad is an ideal solution for many small and medium sized labs.
Realize you will have to offer an economy line of crowns, large complex cases, and custom implant bridges to stay competitive in the market.
Focus as much on retaining your existing dentists as you do on gaining new clients.
With these steps, every local small and medium size lab can remain relevant far into the future.  At ACDLA and The AmericaSmiles Network, we are here to help.  Let us know what you think and how we can assist.